Curry Rice
prep & cook time 30 minutes
*Preparation for rice is not included in the time.
※Eat within 1 week of delivery. We recommend eating within 3 days of delivery for the best taste.

[What you'll need from your kitchen]
・Small pot recommended 6in/15cm
・Frying pan recommended 10in/25cm
・Whisk 

👉 Ingredients marked with ※ are not provided in the kit. Please prepare them at home.
👉 The prep & cook time is an estimation. It will differ based on circumstance.
👉 1 cup (150g) of rice will cook to be about 350g. 300g of rice make about two portions.
[Ingredients]
※  Rice
・ Eggs
・ Tomato
・ Eggplant
・ Zucchini
・ Okra
・ Onion
※  Oil
・ Turmeric
※  Salt
・ Seasoning Mix
・ Ground Pork
・ Authentic Spice Mix
※  Water
・ Boullion Powder

[Tips]
👉We recommend stir frying on high heat and simmering on low heat!

【1 Preparation 10 minutes】
Rinse and cook
2 cups of rice
(3 cups for 4 servings)
. In a pot filled with 1/2 inch of water, add
eggs
and bring to a boil on high heat. Once boiling, reduce heat to medium and cover for 3 minutes. Turn off the heat and leave for 5 minutes. Remove the
eggs
from the pot and place into ice water. When cool and ready, peel
eggs
and cut lengthwise.
【2 Preparation 5 minutes】
While preparing the eggs in step【1 】, prepare the vegetables. Wash tomatoes, eggplants, zucchini, and okra. Cut stems off of tomatoes. Cut into eighths. Cut stems off of eggplant. Cut lengthwise and cut lattice pattern onto surface of eggplant . Cut lengthwise again, and set in water to remove lye. Cut zucchini into 1cm thick slices. Cut stem off of okra. Mince onion.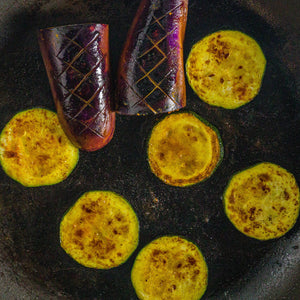 【3 Frying 10 minutes】
Add
1 teaspoon of oil
(2 teaspoons for 4 servings)
to frying pan and turn on heat. On high heat, add
tomatoes
to pan and fry each side for 1 minute. Wipe pan using a paper towel. Add
2 tablespoons of oil
(4 tablespoons for 4 servings)
to same pan. Turn on heat. Remove excess water off of
eggplants
and add to pan along with
zucchinis
. Fry both until browned. Sprinkle
turmeric
in pan. Once seasoning has been evenly coated on both, take
eggplant
and
zucchini
out of pan. With
small amount of salt
, rub
okra
. Then add it into boiling water for 3 minutes. Afterwards, cool
okra
with water.
👉By cooling okra with water, vibrant color will remain even after boiling.
【4 Stir frying 5 minutes】
In a clean pan, add
seasoning mix
and
2 teaspoons of oil
.
(4 teaspoons for 4 servings)
Add
onion
and fry until well cooked. Add
ground pork
and cook thoroughly while breaking up meat.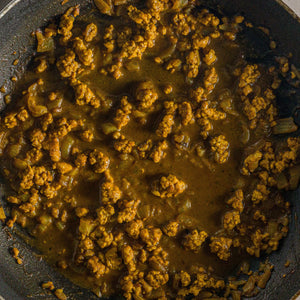 【5 Simmering 5 minutes】
To the pan from step【4】, add
spice mix
and continue frying. Add
400ml of water
(800ml for 4 servings)
and mix with a whisk to avoid clumps. Add
bouillon powder
. Remove lye and stir occasionally. When mixture thickens, add
salt
to taste.
【6 Plating 3 minutes】
Place rice onto plates and pour curry made in step【5】on top. Add tomatoes, eggplant, zucchini, okra, and egg onto plate.
(※The recommended amount of rice per person is 200g.)