Mapo Tofu
prep & cook time 35 minutes
*Preparation for rice is not included in the time.
※Eat within 1 week of delivery. We recommend eating within 3 days of delivery for the best taste.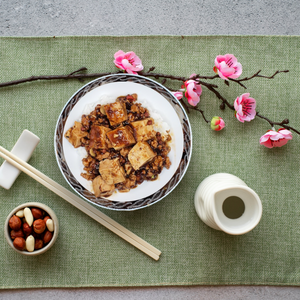 [What you'll need from your kitchen]
・Small pot recommended 8in/20cm
・Strainer 
・Frying pan recommended 10in/25cm

👉 Ingredients marked with ※ are not provided in the kit. Please prepare them at home.
👉 The prep & cook time is an estimation. It will differ based on circumstance.
👉 1 cup (150g) of rice will cook to be about 350g. 400g of rice make about two portions.
[Ingredients]
※  Rice
・ Tofu
・ Green Onion
・ Chili pepper
※  Oil
・ Garlic
・ Ground pork
・ TOJ Specil Mapo seasoning
※  Water
・ Japanese potato starch
※  Water
・ Sichuan pepper
※  Chili oil

[Tips]
👉Stir fry garlic, green onion, and chili pepper slowly on low heat for best results.

👉 To avoid creating lumps when adding Japanese potato starch to water, make sure heat is turned off. Turn off the heat, pour in dissolved potato starch, then turn heat on again.

👉This recipe is spicy. If you would prefer a mild finish, use half of the chili pepper, sichuan pepper, and chili oil.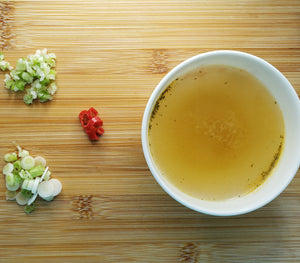 【1 Preparation 7 minutes】
Rinse and
cook 2 cups of rice
(3 cups for 4 servings)
. Dice
tofu
into 1 inch cubes. Wash
green onion
. Chop off roots, finely chop
half of the green onion
(for flavor), and thinly slice the rest. Cut
chili pepper
into round slices.                     
【2 Preparation 10 minutes】
Boil water in a pot, add tofu, and boil for about 5 minutes on low heat. Drain using strainer.

👉 Draining will help the flavors sink into the tofu.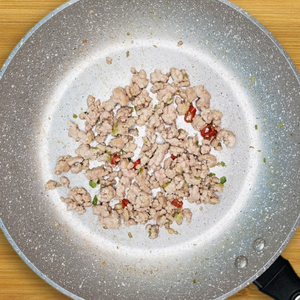 【3 Stir frying 5 minutes】
Add oil to frying pan on medium heat. Add thinly sliced green onion, chili pepper, and garlic. Stir fry until fragrant. Add ground pork, fry until browned.

※Adjust amount of chili pepper to taste.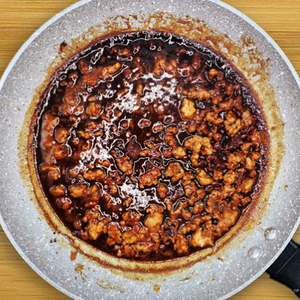 【4 Simmering 8 minutes】
Add
TOJ special Mapo seasoning
to 【3】and mix. Add
200ml water
(400ml for 4 servings)
and simmer for 5 minutes.
【5 Simmering 8 minutes】
Add
tofu
to 【4】and simmer for 5 more minutes. Use a small bowl to dissolve
potato starch
in
1 tablespoon of water
(2 tablespoons for 4 servings)
. Turn off heat and add
dissolved potato starch
. Mix well and turn on heat. Simmer until the soup thickens. Sprinkle
sichuan pepper, chili oil
, and
thinly sliced green onion
to taste.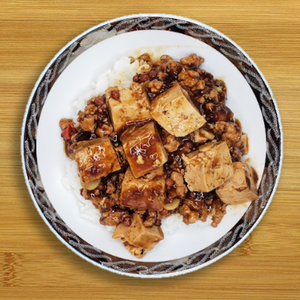 【6 Plating 3 minutes】
Add rice into a bowl and serve【5】on top.

(※The recommended amount of rice per person is 200g.)