Yakisoba
prep & cook time 20 minutes
※Eat within 1 week of delivery. We recommend eating within 3 days of delivery for the best taste.

[What you'll need from your kitchen]
・Frying pan recommended 10in/25cm
・Microwave 

👉 Ingredients marked with ※ are not provided in the kit. Please prepare them at home.
👉 The prep & cook time is an estimation. It will differ based on circumstance.

[Ingredients]
・ Carrots
・ Cabbage
・ Shimeji Mushrooms
・ Pork
※  Oil
・ Bean sprouts
※  Salt
・ Chinese noodles
※  water
・ Yakisoba sauce
・ Aonori
・ Pickled ginger

[Tips]
👉After stir frying meat and vegetables, transfer to plate to prevent over-frying. You can adjust the boiling time for noodles to your liking.

👉While yakisoba is delicious freshly made, it's more savory when noodles are allowed to sit letting the flavors marinate. This might be one reason why yakisoba at food stalls taste so good!

【1 Preperation 7 minutes】
Wash, peel, and cut carrots into long, thin strips. Wash and roughly cut cabbage into chunks. Without washing, cut ends of shimeji mushrooms off and pull apart with hands. Cut pork into 1 inch wide pieces.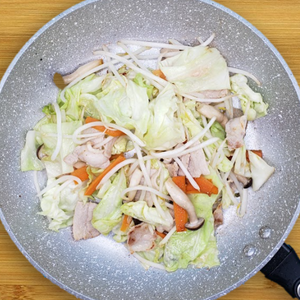 【2 Stir Frying 5 minutes】
Heat
1 tablespoon oil
(2 tablespoons for 4 servings)
on frying pan. Add
pork
and
carrots
. Stir fry on medium heat until pork is cooked and carrots are tender. Add
cabbage
and
shimeji mushrooms
, and continue to stir fry until tender. Add
bean sprouts
and
2 pinches of salt
(1/2 teaspoon for 4 servings)
. Cook until bean sprouts are tender. Take contents out of pan and transfer onto a plate.
【3 Steaming 2 minutes】
Cut off a corner from the Chinese noodle bag (about 1/2 inch) with scissors. Place bag in microwave and heat noodles for 1 minute. Leave the noodles in the bag and seperate noodles.

👉Be careful when removing bag from microwave, as it will be hot.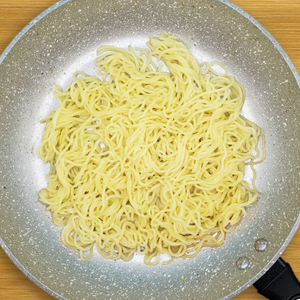 【4 Stir Frying 2 minutes】
Add
Chinese noodles
from 【3】and
2 tablespoons water
(4 tablespoons for 4 servings)
to frying pan. Stir fry over medium heat while loosening the noodles.
👉By stir frying noodles and vegetables seperately, both will remain fragrant and perfectly cooked.
【5 Stir Frying 2 minutes】
When noodles are loosened and cooked through, add vegetables from【2】and yakisoba sauce. Without removing from heat, mix well. When sauce is well coated over noodles and vegetables, remove from heat.
【6 Plating 2 minutes】
Place【5】onto a plate, and add Aonori and pickled ginger to taste.