Hamburger Steak
prep & cook time 35 minutes
※Consume within 1 week after delivery.
 It is recommended to eat within 3 days for the best taste.

[What you'll need from your kitchen]
・Bowl 
・Frying pan recommended 10in/25cm
・Frying pan lid matches the frying pan perfectly
・Small saucepan recommended 6 inches/15 cm
・Spatula 

👉 Ingredients marked with ※ are not provided in the kit. Please prepare them at home.
👉 The prep & cook time is an estimation. It will differ based on circumstance.

[Ingredients]
 Hamburger【A】
・ Ground beef
・ Ground pork
・ Onion
※  Salt
・ Breadcrumbs
・ Egg
・ Nutmeg
※  Pepper
※  Oil
 
 Demiglace Sauce【B】
・ Onion
・ Shimeji mushrooms
・ Butter
・ Special Demiglace Sauce
※  Water

[Tips]
👉Avoid overcooking the hamburger patties. Overcooking the patties causes juices to be released, resulting in dry and tough patties.

👉For tender hamburgers, consider using a lid while cooking. If a lid is not available, improvise by shaping aluminum foil to cover the pan. Since the frying pan will be hot, be careful not to burn yourself.

【1 Preparation 5 minutes】
Finely chop onion【A】. Slice onion【B】thinly. Remove the stems from shimeji mushrooms and separate them by hand.
【2 Combining 4 minutes】
In bowl, combine
ground beef, ground pork
, and
1/2 teaspoon of salt
(1 teaspoon for 4 servings)
. Knead mixture with your hands until it becomes sticky.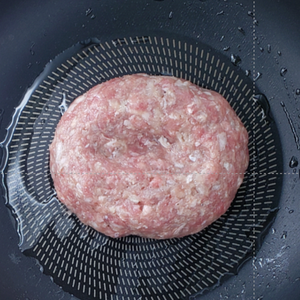 【3 Shaping 4 minutes】
Add
onions, eggs, breadcrumbs mix
, and
1/2 teaspoon of pepper
(1 teaspoon for 4 servings)
into mixture from Step【2】 and knead until everything is well ,mixed. Divide mixture into two equal parts, shape them into oval patties (about 1.5-2 cm thick) while pressing out any air, and create a slight indentation in the center.
【4 Frying 15 minutes】
Heat oil in frying pan and fry patties from step 【2】 on medium heat for about 3 minutes until golden brown. Flip patties, cover with a lid, and continue to cook on low to medium heat for about 8 minutes or until they are cooked through. Remove hamburgers from pan and transfer to serving plate.(Hamburger)
【5 Simmering 5 minutes】
While cooking hamburgers from Step 3, melt
helf package of butter【B】
(full package for 4 serving)
in small saucepan. Add
sliced onions
from Step1【1】and stir-fry until tender. Add
Shimeji mushrooms
and stir-fry briefly. Add
Special Demiglace Sauce
and
2 tablespoons of water
(60ml for 4 servings)
. Simmer over low heat to reduce and thicken demi-glace sauce.
(Demiglace Sauce)
👉This recipe requires only half the package of butter for 2 servings.
【6 Plating 2 minutes】
Pour the demiglace sauce prepared in Step【5】 over the hamburgers from Step 【4】.